Lu Lu's Biography
Lu Lu was born on the ninth day of December on the southern tip of Florida and immediately made Who's Who in Flamingo History as the world's first and only blue flamingo. At the age of 2, Lu Lu moved with her family to a zoo where her father, Tony Romano, worked in pond maintenance and fishing. Her mother, Mattie Luella Bradshaw, popularized Irish-Flamingo music at the Zoo's Cantina and Karaoke scene.
Click Images to Enlarge.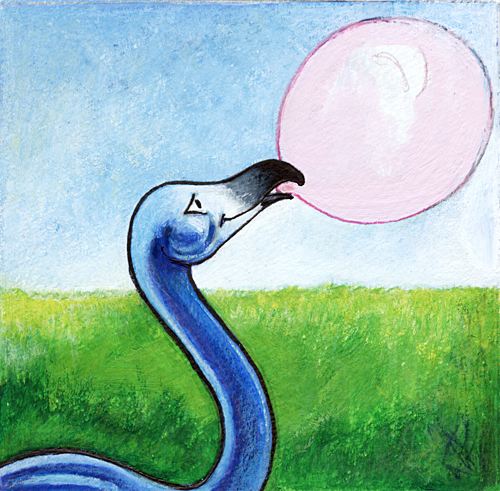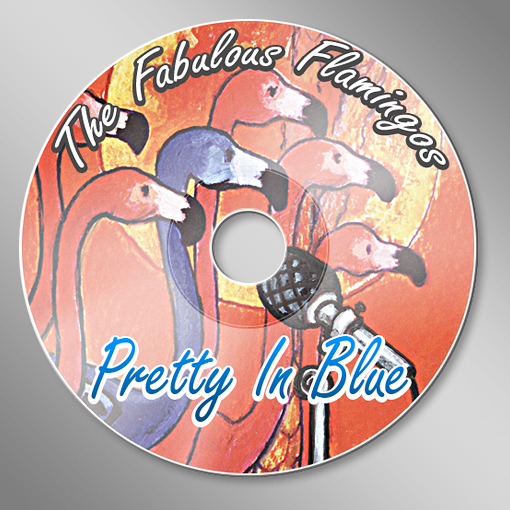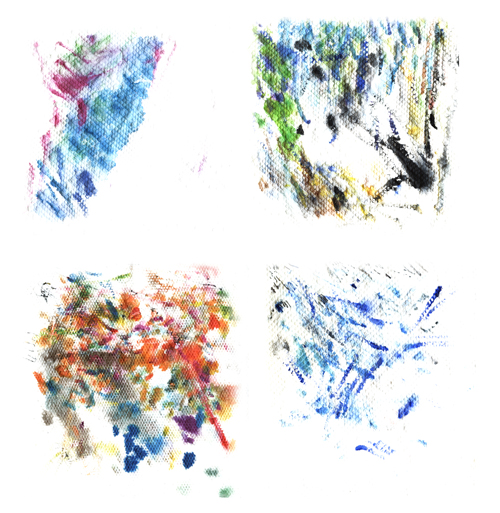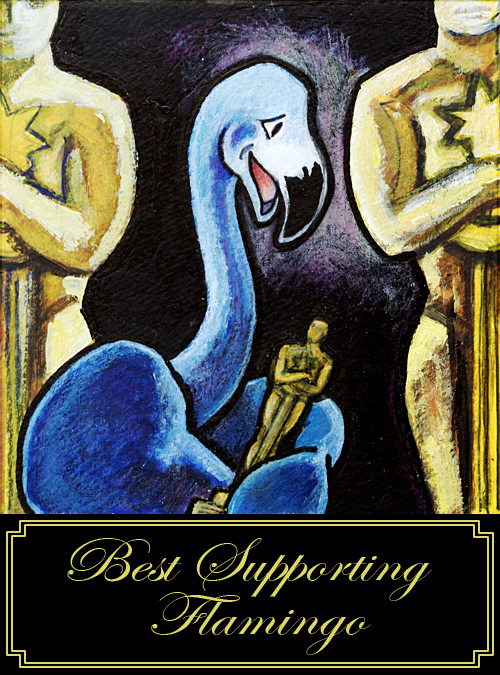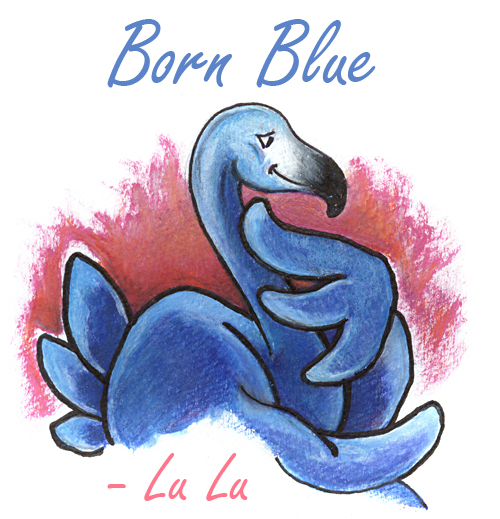 Out of all of her achievements, Lu Lu is most proud of being an accomplished bubble gum chewer and bubble blower, a feat that Lu Lu likes to point out is anatomically impossible for most birds. She remains undefeated in Florida's yearly shrimp eating contest and can speak Flamingo, Zoo Talk and English. Lu Lu likes to collect sea shells, dance on one leg and drink strawberry milk shakes.
Lu Lu's creative talents and ability to sing like no other bird became apparent at the age of 5 and she joined her five sisters (Sophia, Amy, Marcella, Maggie, and Valentina) and formed The Fabulous Flamingos. International critical acclaim shortly followed when Lu Lu won Best New Flamingo Vocalist with the hits of I'm So Blue without You, Pretty in Blue and Swimming in the Blue Danube.
While on a zoo & concert tour, Lu Lu was introduced to painting by Ruby the Elephant. As with singing, Lu Lu discovered a new talent that quickly blossomed. Hailed as contemporary masterpieces and artistic marvels, her works have been exhibited in New York, Rome, London and Paris and are highly sought after by collectors around the world. Her impressionistic Down by the Pond fetched the highest bid for a feather painting at auction.
At the age of 8, Lu Lu rocked the fashion industry by launching her own swim suit line and signature perfume – Scent of a Flamingo.
At 9, she won tremendous applause and a Child's Oscarette for Best Supporting Flamingo in Blue Beauty.
In her candid autobiography, Born Blue, Lu Lu chronicles her childhood fame and the trials and tribulations of being blue, a journey that was marked with bouts of wanting to be pink. After a horrifying event and with the help of her friends, Lu Lu discovered the power of self-acceptance. To this day, she proudly celebrates her uniqueness and encourages others to do the same.
Her motto is: "Cherish yourself and celebrate because you're one of a kind!"
Talk to Lu Lu!
Send a message below: